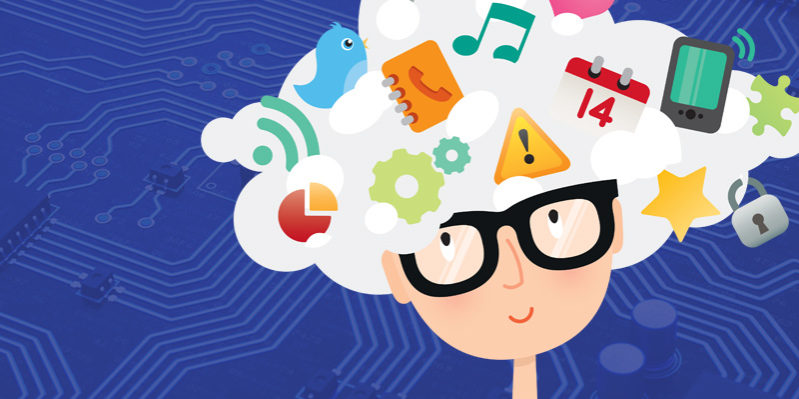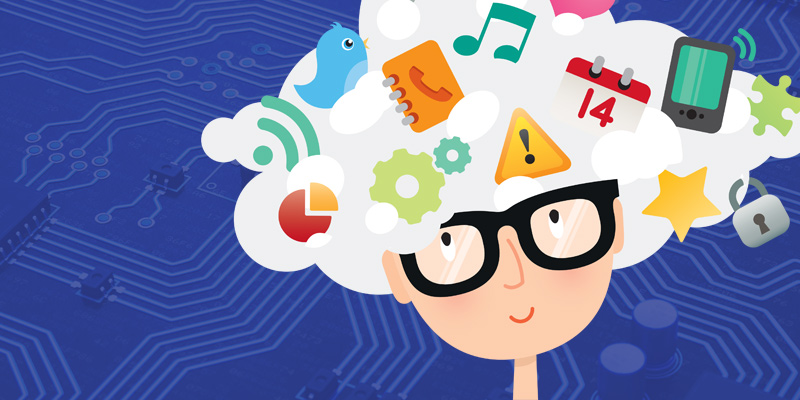 With each passing year, the Internet gets less "virtual" and more "reality." Online activity is increasingly part of core operations for banking, retail, healthcare, scientific research, and education. In today's economy, being connected is not optional.
That means a degree in computer science can take you just about anywhere, in any field. Computer and information technology jobs are projected to grow 12 percent by 2024, faster than the economy as a whole according to the Labor Department. The computer sector will swell to 4.4 million jobs by then, thanks to the unending developments in mobile technology, storage, and new applications of the internet.
In the blink of an eye
The internet has grown to over 3.35 billion users worldwide – nearly half the planet's population. Every single day, the more than one billion websites of the web generate about 300 times the content of the US Library of Congress, the largest library in the world.
In one "digital second" in 2016, according to online tracker InternetLiveStats.com, 2.5 million emails are sent. Over 121,000 YouTube videos are viewed, 53,890 Google searches are made.
As boggling as these figures are, they are poised to grow to at least ten times their current levels by 2020. How will humanity store all this data?
Cloud computing
Cloud computing is a way of sharing the processing resources and data management online. Cloud computing makes it possible to reconfigure servers, networks, and storage to share space where it is needed.
The cloud approach untethers data from physical infrastructure, adding new efficiency. Businesses no longer need to house their own data centers, according to Qusay Hassan, computer professor at Egypt's Mansaura University. Rather, "they can access giant pools of resources offered by providers in a way similar to accessing public utilities" like the water system or electricity grid.
Big data
The more information produced and made available on the internet, the more complicated it becomes to process it. "Big data" is more than just the data itself. It is a field of computing that involves new methods of capturing, selecting, and analyzing all that material.
It's also the belief, writes Forbes technology reporter Gil Press, that "the more data you have the more insights and answers will rise automatically from the pool of ones and zeros."
Fundamentally, Press adds, it is "a new attitude by businesses, non-profits, government agencies, and individuals that combining data from multiple sources could lead to better decisions." Sharing data can improve lives. "It's all about attitude, not technologies or quantities," he says.
The internet of things
Along with computers and smartphones, we use a growing number of electronic devices that are connected to the internet and transmitting information. Ordinary objects like thermostats, cars, even refrigerators, are now equipped with sophisticated sensors to collect data and network with other devices.
The "internet of things" is the integration of the physical world into computer-based systems. Sensors can now interact with light, temperature, location, voices and fingerprints, air quality and chemicals, and more. Health devices record data on heart rate, blood pressure, and the steps you take.
By 2020, tech research firm ABI Research estimates more than 30 billion devices will be wirelessly connected to the internet. The "wearable" computing and integration of everyday physical items into the internet will transform every aspect of work, economic transactions, and personal interactions with
the world.
For information about NCTC's Computer Information Technology programs, contact
Judy Archer, Division Chair, 940-498-6292, jarcher@nctc.edu.
By Naomi Sheehan
---



Computer and IT Careers



Computer Systems Analysts
2015 Median pay: $85,800 per year
$41.25 per hour
Number of jobs (2014): 567,800
Job growth 2014-2024: 21% (Much faster than average)
Database Administrators
2015 Median pay: $81,710 per year
$39.29 per hour
Number of jobs (2014): 120,000
Job growth 2014-2024: 11% (Faster
than average)
Information Security Analysts
2015 Median pay: $90,120 per year
$43.33 per hour
Number of jobs (2014): 82,900
Job growth 2014-2024: 18% (Much faster than average)
Network and Computer Systems Administrators
2015 Median pay: $77,810 per year
$37.41 per hour
Number of jobs (2014): 382,600
Job growth 2014-2024: 8% (As fast as average)
Software Developers
2015 Median pay: $100,690 per year
$48.41 per hour
Number of jobs (2014): 1,114,000
Job growth 2014-2024: 17% (Much faster than average)
Web Developers
2015 Median pay: $64,970 per year
$31.23 per hour
Number of jobs (2014): 148,500
Job growth 2014-2024: 27% (Much faster than average)
Source: Bureau of Labor Statistics, U.S. Department of Labor, Occupational Outlook Handbook, 2016-17 Edition.
http://bls.gov/ooh/computer-and-information-technology/home.htm
---



Employer Spotlight
Interface People (IPeople) is a healthcare data integration provider located in Lewisville, Texas.  IPeople employs around 40 people and recently celebrated its 15th anniversary. The company serves clients both nationally and internationally.  When asked what IPeople looks for in an employee, Udaya Amaradasa, Director of Development and Information Technology, said, "What is lacking in many of the young people today is a good work ethic—showing up to work on time, working the required number of hours, and sticking to it.  We need employees that are quick on their feet and can wear many hats."