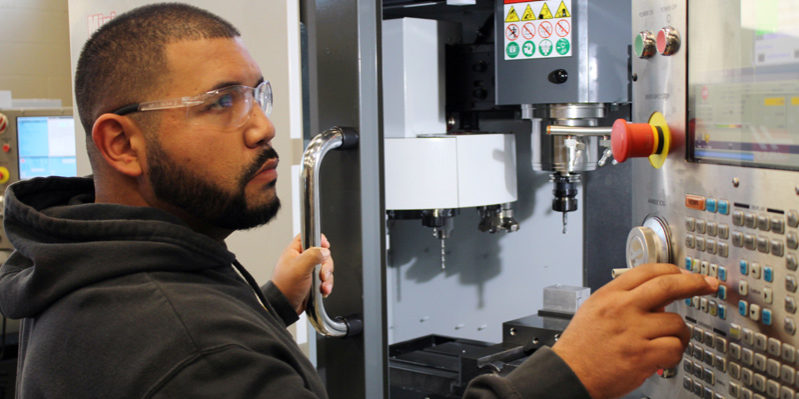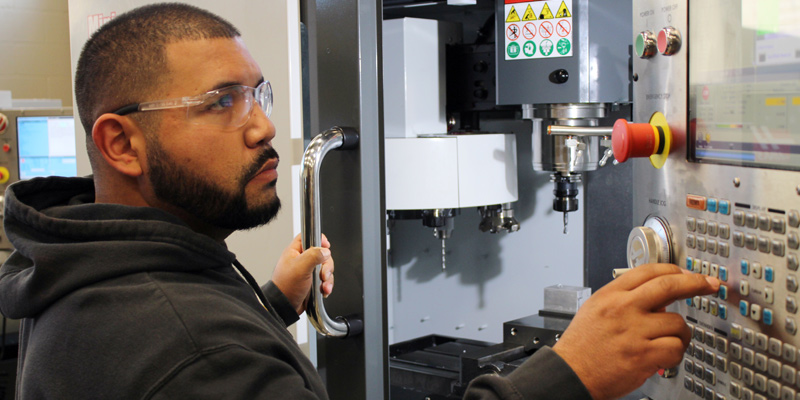 By Tracy McQueen Marksberry
Machinists have a hand in practically everything – from the parts on your car to the equipment at your doctor's office to the shoes in your closet.
"We're behind the scenes of a lot of different things," said Jeremy Carroll, Machining Technology instructor at North Central Texas College. Students who enroll in NCTC's Machining Technology Program qualify for a wide variety of jobs, according to Carroll.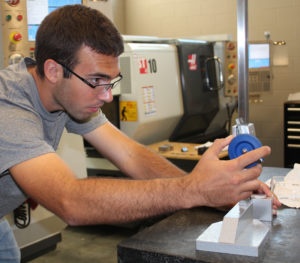 Students may specialize in conventional or computer numeric control (CNC) machining. They may earn an occupational skills award with as few as four classes, a one-year certificate, or an associate degree in as little as two years.
Graduates are in high demand in small machine shops as well as large industrial sites.
"We work closely with local industry," Carroll said.
NCTC's Industrial Technology Center offers state-of-the-art training facilities. Students produce hands-on projects from blueprints or existing parts. Activities cover operation of all machine tool equipment, as well as precision measurement, shop-related blueprint reading and applied mathematics.
The work is precise, very precise. Generally, machinists make parts that have to be within 1/1,000 of an inch of specifications. That's thinner than a strand of hair. In some cases, parts have to be within 1/10,000 of an inch.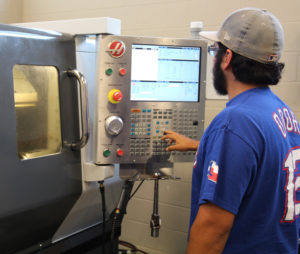 Many of us think of the automotive industry when we think of machinists, but they also build a variety of other parts and jigs for everything from complicated medical equipment to patterns for making shoes.
In addition to conventional methods, students learn machine code programming, conversational programming, and work with CAD/CAM software to create two and three dimensional programs for CNC machines.  "You write a program, and the machine does the work," Carroll said.
He said there is a need for both conventional and CNC machining, and NCTC offers a variety of options based on student interest and industry need. College faculty meet regularly with an advisory group of industry representatives to make sure the program stays current with industry needs.
Aaron Spicer, Shop Supervisor, Red Rock Machine & Tool, Inc., knows firsthand about the quality of training available at NCTC. He said NCTC's open communication with industry helps the college offer the best program possible for students. When Spicer is looking for employees, he always calls NCTC.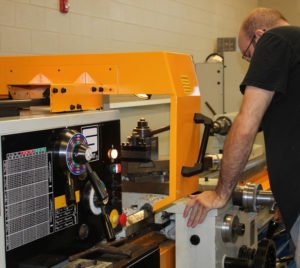 "They are the ground floor," Spicer said. "Their students come in with base knowledge of machining and inspecting. They have a good foundation to build on."  He said, "The college does a great job of preparing students for jobs using their state-of-the art equipment and labs."
"They have a super nice shop there," Spicer said. "Their instructors have a wealth of knowledge to share with the students. They come directly from the industry, they speak the same jargon we speak in the shop."
Typically, 30 to 40 students are enrolled in the program at any given time. Carroll said some students begin working toward machinist credentials while in high school.
"You can actually be working toward a degree while you're in high school," Carroll said.
Others come to the program later in life, looking to upgrade their skills for a better career.
"A majority of our students are not college minded students when they are in high school," he said. "We're more hands on. If you like making things with your hands and taking pride in your work, this is for you."
Carroll said, "Students who succeed in the program have great career opportunities. We work hard to place our students."
According to the Occupational Outlook Handbook published by the Bureau of Labor Statistics, the median income for a machinist in Texas was $43,870 in 2016.
Spicer said employment opportunities are growing as baby boomers reach retirement age.
"I do not see enough young people going into the trade," Spicer said. "I am excited NCTC's machining program is in our community.  It gives us a great pool of trained workers to choose from."
Not only is the machining program available in Gainesville, but it will be expanding onto the Bowie Campus in spring 2018 and into Denton County in late 2018.
For more information about NCTC's Machining Technology Program,
contact Jeremy Carroll, 940-668-7731, x4415; jcarroll@nctc.edu.