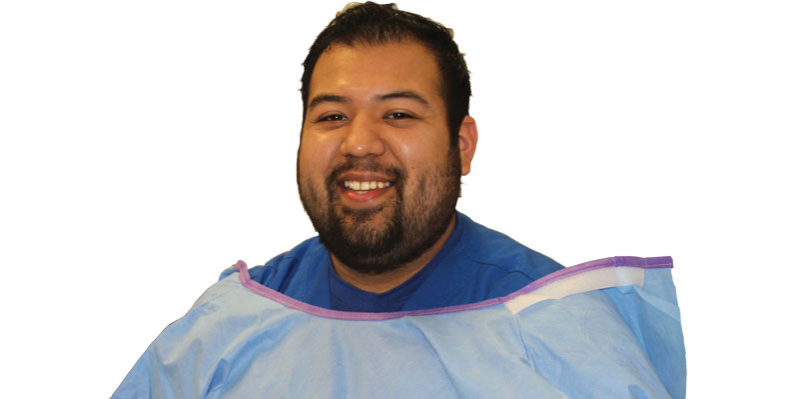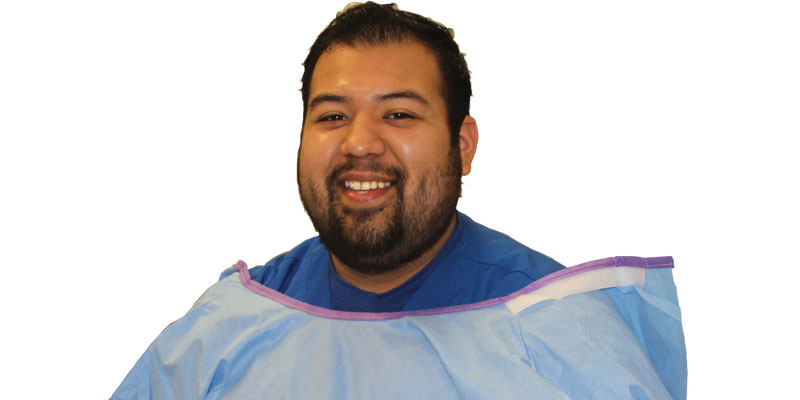 Aaron DeLeon, a 24-year-old sophomore at NCTC is enrolled in the Surgical Technology program.  His path to higher education started with dual credit courses taken at Gainesville High School, then he spent a semester at the University of Texas at Arlington in the fall of 2015.
"It wasn't for me," he notes, explaining that he returned to NCTC for personal reasons that included the expected birth of his first son. For employment and income, he took a little more than a year off from academic pursuits to work in oil fields and on wind turbines with companies in Houston and Odessa, but eventually, he returned to Gainesville to complete his Associate of Arts degree by the spring of 2018.
DeLeon also became interested in surgical technology and now attends classes at the Corinth campus. His plan is to finish that certification in August 2019, then take other core classes through the spring of 2020 in preparation of a transfer to the University of North Texas to pursue a bachelor's degree.
"I've always had a good support system at NCTC and I've always felt welcome and at home," he says, adding that he's been able to work at his own pace and feels the college has given him "a very strong basis" for higher level courses. 
"Originally I was going to stop at surgical technology, but throughout the program I have been given some amazing support and advice from my instructors," he says. That inspired his latest goal: to apply to UNT's Physician's Assistant program at the UNT Health and Science Center.  
DeLeon's story — and the evolution of his career trajectory — isn't that unusual. Often, students head to NCTC aiming for an associate degree as a stepping stone to a bachelor's, while others test the waters first with a certification in a specialty like medical billing or phlebotomy in hopes of gaining new or additional skills necessary for employment, with a plan to work and help finance their educations.
"The noncredit classes often get the ball rolling," says dean of Health Sciences, Bonita M. Vinson.  "Someone comes to us to take a noncredit class just because they want some additional job skills. They might come for training to be a certified nurse aide so they can get to work quickly. Then they may become interested in the LVN program."
NCTC's Health Sciences Licensed Vocational Nursing (LVN) pathway is a 12-month certificate program approved by the Texas Board of Nursing.  After finishing their coursework, LVN students earn a certificate of completion and may make application to write the National Council Licensing Examination – Practical Nurse (NCLEX-PN). 
"Or a person might start with sterile processing, then look over and say, 'I wonder what nursing or surgical tech is all about,'" Vinson adds. "Pretty soon, they're looking at those and other career options.  That's a pretty common progression."
Labor statistics and higher wages lend additional support to the "snowball effect" among Allied Health professions. For instance, training for a career as a surgical technologist leads students to a field with a median salary of $45,160 and an employment outlook that the U.S. Bureau of Labor Statistics projects will grow by 12 percent in the next eight years. 
Several of NCTC's certificate programs are linked to associate degrees too," Vinson adds. Besides the Associate Degree in Nursing (ADN), she points to programs like the paramedic program which touts a three-semester and 38-credit-hours paramedic certificate or progression to an Associate of
Applied Science degree in Paramedicine — spanning four semesters and 60 credit hours. Similarly, Surgical Technology, Radiology and Fire Science have both certificates and associate degrees. The Basic Firefighter certification is achieved in 12 months.
To read ADDITIONAL PROFILES visit us online at: nctc.mycareerfocus.org
---
The phrase "Allied Health" isn't particularly familiar to people who aren't in the healthcare industry, NCTC's dean of Health Sciences, Bonita M. Vinson, says. "A helpful way to describe it is to say: 'You have doctors and nurses, and then everything else falls under Allied Health.'"
NCTC's Health Sciences department has 12 health-related certificate programs, all under the category of "Allied Health Professions."  The list includes:
Certified Nurse Aid

CPR for Healthcare Providers

Clinical Medical Assistant

Dental Assistant

Electronic Health Records

Health Professions Readiness

Medical Administrative Assistant

Medical Coding

Pharmacy Technician

Phlebotomy Technician

Physical Therapy Aide

Sterile Processing Technician