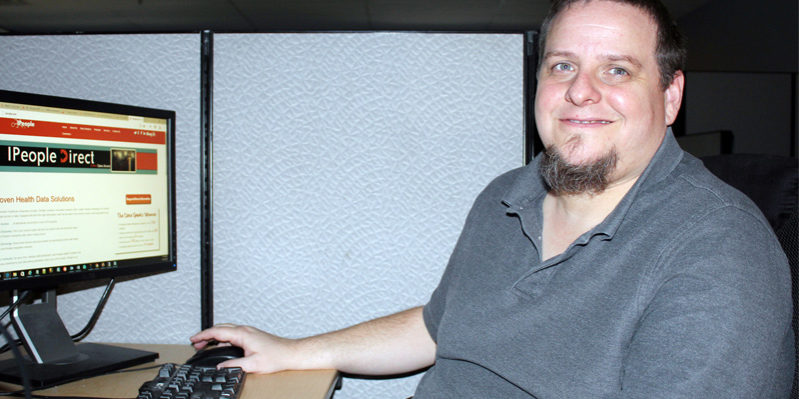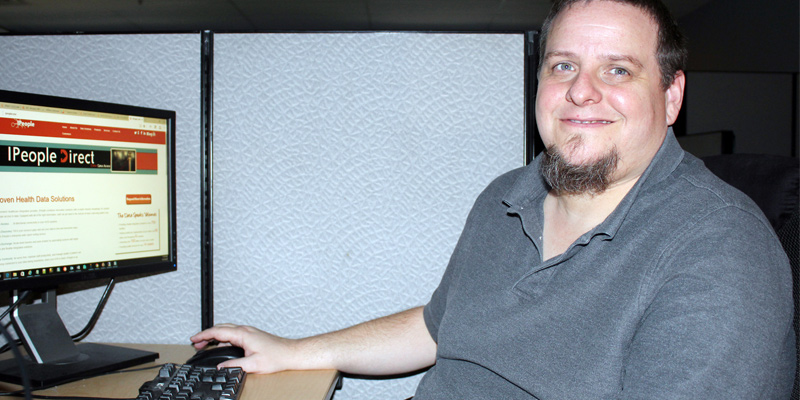 In 2015, the road ahead of Russ Phillips looked a lot like a one-lane highway stretching forever through a barren dessert.  Two decades removed from earning a degree in his not-so-profitable dream field, he was newly-divorced and scraping by under-employed as a driver.
Unexpectedly, a fork in the road appeared.  He met and married his wife Amy, and with her support, Russ began on a new career track. Russ and Amy agreed that finding opportunities in the Dallas IT job market should be relatively easy for someone with the required skills, and NCTC with its reputation for offering career advancement training to North Texas locals with limited time and finances would be Russ's starting place.
According to Russ, "The flaw in my original life plan to pursue my creative career dreams was sticking with a low-income field to just "pay the bills." What young people with those aspirations fail to understand is that if you're going to just "get by" on unskilled labor, you must do a LOT of it. Doesn't leave much time or resources for other things."
Russ's NCTC scholastic career began with little focus.  He was late registering for classes and found very few classes still open for enrollment. By chance Russ arrived at the next crossroad. Database Administration was a new program at NCTC, which is why two of Manuel Trevino's database courses were wide-open. Russ registered for those two database courses and one other that first semester as survival required him to continue to work full time. Russ was excited to learn that database administration requires IT skills, but isn't industry specific.
Russ states, "You need to understand that when I enrolled at NCTC I had a level of computing expertise commensurate with your average pre-information age-reared American. I was your typical self-taught "user." I could do the basics. Mr. Trevino didn't have much to work with."
Russ continued, "Mr. Trevino exercised great patience to get me where I needed to be to be successful. At my age and life circumstance, I benefitted from NCTC's focus on student success. I certainly needed the attention only a small college atmosphere like that here at NCTC can afford."
"I have been uniformly impressed by the faculty I have studied under here. You can spend a ton of money on education from a giant university with tremendous resources, but no resource does more for your academic success than professors who care, and let's be honest, know their stuff. Mr. Trevino has an impressive teaching pedigree. Information Systems Division Chair Judy Archer brings her years of professional experience and passion for student success into her classroom. Doug Akins is one of the best teachers I have ever had the pleasure to learn from. I enjoyed Mr. Akins's six-week Network-plus class, that he labored through with a broken arm, so much I might have considered changing my major just to continue to study under one of the top-rated Cisco instructors in the country. This semester, I have the privilege of taking Java Programming from Darryl Dunnington, whose teaching career spans 30-plus years and includes training personnel at Lockheed-Martin. Mr. Dunnington still devotes time to web sessions, taking a neophyte coder like me through basic concepts on Wednesday nights."
"Now two years later, I'm still traveling down this academic highway. But it's only in a figurative sense these days. I don't make money behind the wheel. That's because of wonderful people in the NCTC IT Career Connection Center. There's a dedicated group there administering programs, like TechHire, designed to propel deserving students into IT careers."
"One more champion I must sing praises of is my TechHire coach, Maria Villamater.  Maria has been my enthusiastic advocate getting me enrolled in the program and connecting me with my current internship. TechHire kicks in funds toward school costs among other things, which is a tremendous relief for families like mine who are getting by on less in the short term while devoting time and energies toward school."
"When I began pursuing IT, it was with an eye toward building something to best provide for our family. In September we grew by one, and now there's a little passenger, Stephen, in the back seat. I am working at IPeople, a medical data company, in a fun atmosphere with great folks in the healthcare industry. I don't fool myself into believing I am actually saving lives with what I do, but there is tremendous satisfaction in the IPeople mission to help healthcare providers deliver care more efficiently. I hope once the school year is over, and IPeople are through kicking the tires on this intern; they will agree I should be a permanent part of their team."
"Nonetheless, nobody can tell you precisely where the end of the road goes, or how many more blind curves are ahead before you get where you're going, but I have great confidence in my ability to navigate it until I find my ultimate destination."
Udaya Amaradasa, Director of Development and Information Technology, is Russ's supervisor at IPeople. He said, "Russ was our first intern from NCTC. We have been very happy with the work ethic and attitude Russ brought to IPeople. He set the bar high. NCTC's program makes it easy for students to go to school and get the work experience.  We look forward to partnering with NCTC again in the future."