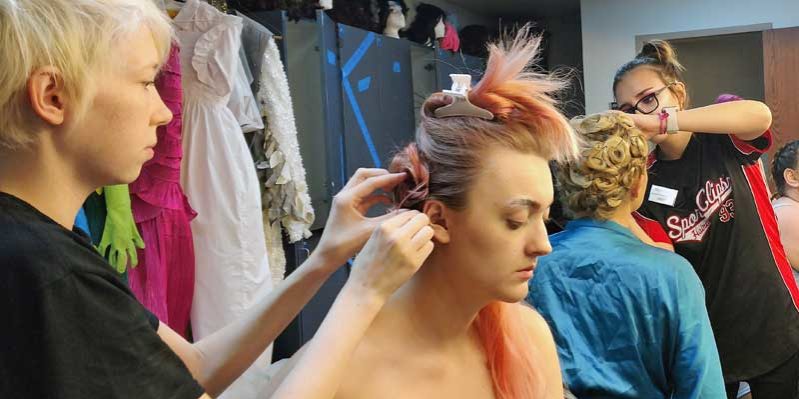 If you are searching for a creative career with rapid growth and a wide range of career options, you should consider NCTC's Cosmetology or Esthetics programs. "During the last decade, there has been a dramatic increase in the number of services offered, product sales and technology. This is a talent industry," says Stephanie Lindsey, Division Chair-Human Services and Hospitality.  "Most of the job growth isn't reflected in the employment classifieds. Salon owners typically develop relationships with cosmetology schools and hire graduates as soon as they are certified. Graduates may start out working hard to develop their clientele, but in time cosmetologists with an entrepreneurial outlook can earn a good income."
Industry experts report that the cosmetology industry grosses over $72 billion per year. According to the Bureau of Labor Statistics, there are nearly one million people employed in the primary service segments of the market, and there are strong growth expectations. Clearly this is an industry on the rise:
Barbers, hairdressers and cosmetologists:

656,000 in 2014, 10% expected growth by 2024.

Manicurists and pedicurists:

113,600 in 2014, 10% expected growth by 2024.

Skincare specialists:

55,000 in 2014 with a 12% expected growth by 2024. Specific growth expected for businesses serving men.
It would be a mistake to enroll in the cosmetology program thinking you are going to spend all your time cutting and coloring hair or applying makeup. Lindsey points out that the program includes a lot of academic work that may surprise some students. In addition to learning the creative side of the business, students need to learn anatomy and physiology, and chemistry, as well as the medical disorders and diseases that affect the skin and hair. Students in NCTC's cosmetology operator program will learn the basic skills of cutting, coloring, highlighting, relaxing and permanent waving, but they will also have an opportunity to develop their business skills such as communication and marketing. "Many of our students will decide to own their own business in the future," said Dean of Career & Technical Education Debbie Huffman who oversees the program. "Because we are part of a comprehensive community college, our program helps to prepare students for that opportunity. You won't find that in every cosmetology school." Graduates leave with technical skills and training for the real world through a combination of theory and clinical experience.  
The College operates a full-service salon that is open to the public two days a week, where under instructor supervision, students perform a wide array of salon and spa treatments including haircuts, hair color, manicures and pedicures, and facials at a reduced rate to community clients.  "Instructors are encouraged to not only teach the skills necessary to pass the state board examination but to teach the skills necessary to walk right into a "real world" salon or spa atmosphere and not feel intimidated," states Lindsey.
NCTC Cosmetology participates in service projects as well.  Students go to local nursing homes weekly to provide manicures and mini facials for residents.  They provide hair and makeup for various plays and musicals performed by the Drama Department.  Students help high school students get ready for prom by donating free hair and makeup services to those who can't afford it otherwise.  The Cosmetology Department is also a supporter of Abigail's Arms, the local women's shelter for victims of domestic violence.  Victims are provided free services to encourage them and build up their self-esteem after being traumatized.
There are a vast number of career opportunities in this field.  In addition to salons and spas, Cosmetologists and Estheticians also work in theater, television, product development, dermatology, medical aesthetics, with morticians, or as educators and platform artists.