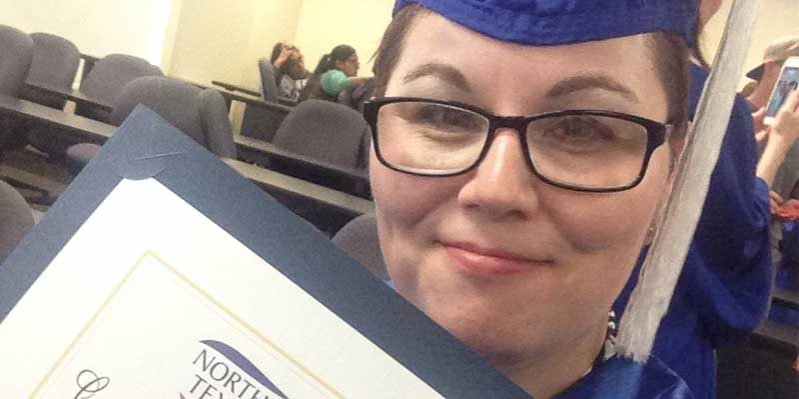 CNA to LVN
If there's one thing many NCTC students can agree on, it's the unwavering support and encouragement they receive from their instructors. And, for Kristy Hughes, that is equally true.
"My instructor, Margrette Thygesen, is amazing, down to earth and has many years of experience," said Hughes. "I feel she gave me everything I needed to be successful in my career. Even after graduating two years ago, we still keep in touch. And, my current LVN instructors are amazing and supportive, too!"
In 2016, Hughes completed the Certified Nurse Aide course at NCTC's Adult and Continuing Education (ACE). She stated, "I was looking to grow into a career that would give me more of a challenge and one that also included caring for people because I've always been a caregiver, helping and providing support for others." Once she received her certification and passed the state exam, Hughes quickly found a full-time job as a home health CNA for Brightstar Care in Flower Mound.
The U.S. Bureau of Labor Statistics reports that CNAs are in high demand, with job growth expected to increase 11 percent faster than the average for other occupations in the next five years. And, with a median salary of $30,000, the return on investment for the 14-week CNA program is unparalleled. Not to mention, being a CNA can be a very personally-fulfilling career. According to Hughes, "A typical day is usually spent with a client in their home taking care of their physical and home care needs. It's very rewarding to know you're making a difference, not just in their lives, but in their family's lives as well."
ACE's CNA program consists of 100 hours, 60 of which comprise classroom training and skills and a 40-hour clinical in an actual nursing home. Students gain the knowledge, skills, and abilities essential to providing basic care to residents of long-term care facilities. Topics include residents' rights, communication, safety, observation, reporting and assisting residents in maintaining basic comfort and safety.
Hughes said she enjoyed working as a CNA so much, she decided to further her career and enrolled in NCTC's LVN program, thanks, in part, to the encouragement of another one of her NCTC instructors. "It's a tough program," said Hughes, "but I'm so happy I'm continuing my path to become a nurse."
She is dedicated to completing her education and has temporarily stopped working in order to focus on school full time. "Being a CNA is a very rewarding career, but it's not easy," Hughes said. "You will get out of it what you put into it. There are wonderful moments when you wonder why you didn't do it sooner. And, if you have a compassionate heart and a desire to give back to your community, it, definitely, is a great choice."