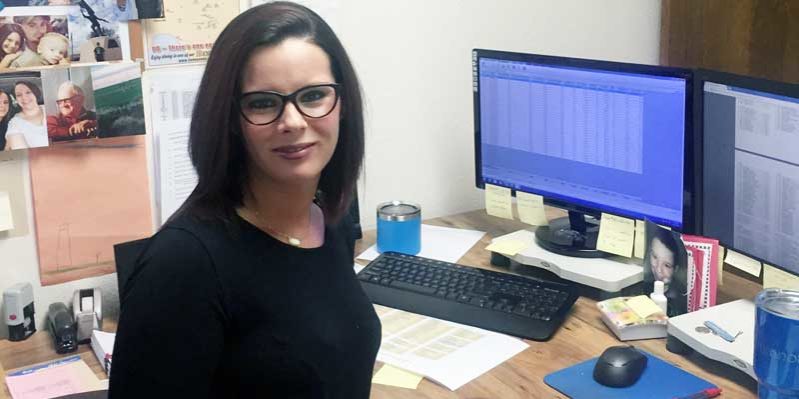 For Shannon Campbell, time is precious. As a single mom of a 10-year-old son, she also works full time at the Richeson Group, a Dairy Queen franchisee. So, for Campbell, the opportunity to take advantage of the NCTC Fast Start IV Grant and expedite the completion of her degree made perfect sense.
Funded by the Texas Workforce Commission, the Fast Start IV Grant offers an expedited competency-based curriculum in the criminal justice, business management and business office technology programs, enabling students to receive certificates in a reduced amount of time. Campbell chose to take the competency-based education (CBE) business management course in conjunction with other core courses, giving her the opportunity to take more hours each semester without feeling overwhelmed.
"Since enrolling at NCTC, my advisors and success coaches have done a great job making me aware of different programs that will help advance my career and enable me to go further in achieving my dreams," Campbell said.  The online CBE course design lets her quickly progress through course content that she already knows and spend more time concentrating on new concepts to gain higher levels of proficiency before testing on specific objectives.
At NCTC, Campbell is learning to apply her knowledge of business concepts as practical success strategies and activities. In addition, the application of new skills and knowledge has increased her proficiency on the job. As an accounting assistant, she is responsible for transferring funds from franchise store accounts to the primary company account, auditing credit card transactions and reports, managing the weekly and monthly financial records, tracking franchise sales and calculating managers' performance bonuses.
Campbell said she enrolled in college courses to gain new skills and earn a degree in order to prepare herself to step into the CFO position when the current CFO retires. "My goal is to become the CFO of the Richeson Group," she said, "and successfully earning my Business Management, Associate of Applied Science Degree from North Central Texas College will go a long way in helping me achieve that goal."
And, Campbell knows she is not alone in her efforts. She recognizes that her son, boyfriend, and parents are the driving forces behind her motivation to succeed, as she works hard to make them proud. While she acknowledges that life will always present obstacles, she believes it is how one deals with obstacles that defines one's character, noting, "We should embrace the obstacles and changes that come with them as we are much stronger after having successfully dealt with them."