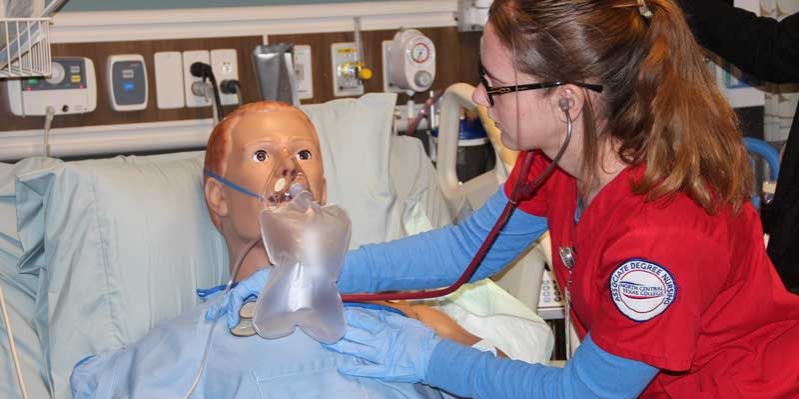 You're thinking about becoming a nurse, but unsure of your options.
We know that jobs for nurses are projected to grow by 15 percent in the next decade, according to the Bureau of Labor Statistics, so this "most trusted profession" is a great consideration when factoring in job security. According to a study by the Bureau of Labor Statistics, the state of Texas has the second-best employment projections for nursing through 2022 in the US.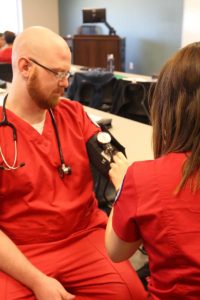 As for a financial investment, the decision to become a nurse is a solid one. The average Registered Nurse made $68,450 last year in the US, or $32.91 an hour, so we know that the payoff long-term is worth it.
But how do you become a nurse? What if you want to get started in the field right away and cannot wait four years to begin your career? Is there a difference between levels of nursing certificates and degrees, or do they all mean the same thing? NCTC offers Allied Healthcare certificate programs like CNA, and three Nursing education pathways, a Licensed Vocational Nursing (LVN) Program, a LVN to RN Transition Program, and an Associate Degree in Nursing (RN) Program.
CNA, LVN, LPN, ADN, RN, BSN…
Nursing 101. hat do all the abbreviations stand for, and what's the difference?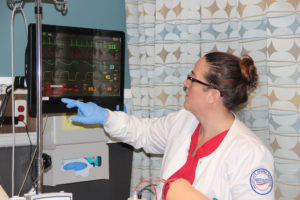 Certified Nurse Aide (CNA)/Certified Nursing Assistant (CNA) is a position title. The CNA is responsible for providing basic care to patients and assisting patients in daily activities they might have trouble with on their own.  A CNA may serve as a liaison between the patient and LVN or RN. This program, offered at NCTC through the Adult and Continuing Education Division, is a non-credit Allied Health program. CNA students gain the knowledge, skills and abilities essential as a care giver to provide hands-on basic care to residents of long-term care facilities.  Students will learn about the residents' rights, effective communication, assisting residents in maintaining basic comfort and safety, plus accurate reporting techniques.  Requirements for admission to the program include valid identification forms,  immunizations, and registration for CPR. Upon successful completion of the program, CNA students take and pass the state board certification exam to receive their license to work in Texas.
Licensed Vocational Nurse (LVN)/Licensed Practical Nurse (LPN) are job titles. Depending on where you're located, these terms tend to be interchangeable. Here in Texas we call them LVNs. Most other places in the US call them LPNs. Becoming a LVN may be the path you choose to get your foot in the door to begin your nursing career, and is a good choice if you think you want to pursue a career in healthcare but maybe aren't certain about making the commitment to full-time nursing school. You can get experience in the medical field with this title and decide if nursing is a good fit; or you can consider taking it to the next level and becoming a registered nurse by completing the ADN program. The 12 month LVN program at NCTC is fully approved by the Texas Board of Nursing and LVN classes are offered at Gainesville, Corinth, Bowie, Graham, and online. When students successfully complete this one-year program they are awarded a certificate of completion and are eligible to take the National Council Licensing Examination – Practical Nurse (NCLEX-PN).
The Associate Degree in Nursing (ADN) program at NCTC allows students that complete the 60 credit hours to earn an Associate of Applied Science Degree and to take the state licensing exam for Registered Nurses (RN). The ADN and LVN to ADN transition program at NCTC are available at the Health Sciences Center at the Gainesville campus. The College's ADN program is fully approved by the Texas Board of Nursing and has accreditation from the Accreditation Commission for Education Nursing, Inc. (ACEN).
Registered Nurse (RN) is also a job title. After completing either an ADN degree or a BSN degree, graduates must pass a state licensure exam to become a Registered Nurse.  Many employers are encouraging ADN nurses to consider going back to school to complete their BSN—and some are even willing to foot the bill!
Bachelor of Nursing (BN)/Bachelor of Science in Nursing (BSN) refers to a bachelor's level of education. Getting your BSN takes a little more time, and you'll have to apply and get accepted by a university in order to attend. It can be challenging, but definitely rewarding. As the field of medicine and nursing becomes more complex, many employers are encouraging those interested in nursing to earn a BSN. NCTC has affiliation agreements with BSN programs in Texas to provide a seamless transition for ADN nurses to earn their BSN degree.
There are many pathways available to you in the nursing field, and many ways to reach your career goals. North Central Texas College is here for you. 
RN average wage
Cooke County: $65,700 yearly
Texas: $70,390 yearly, $33.84 hourly
US: $68,450 yearly, $32.91 hourly
LVN average wage
Cooke County: $45,300 yearly
Texas: $46,110 yearly, $22.17 hourly
US: $44,090 per year, $21.20 per hour
Sources: Bureau of Labor Statistics https://www.bls.gov/oes/current/oes_tx.htm; Texoma Workforce Solutions.
Visit https://www.nctc.edu/health-sciences/nursing.html, or call us at (940) 668-7731 ext. 4330 for more information on our nursing programs.