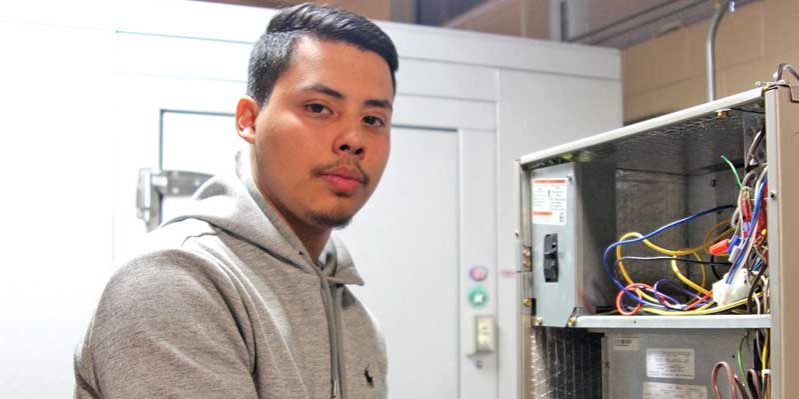 Tony Cabral is a senior at Gainesville High School and this May he will earn a Level I Certificate at North Central Texas College before graduating from high school.  Cabral got a jump start on his career by participating in the dual credit Heating, Ventilation and Air Conditioning (HVAC) Program through North Central Texas College. 
Working in the industry has helped to reinforce the skills Cabral learned in the classroom and labs.  His future plans include working for a year and then returning to school for an Associate of Applied Science (AAS) degree in HVAC to learn more about commercial units and duct work. Of his dual credit experience Cabral said, "It wasn't always easy because I missed out on some things that high school kids enjoy doing outside of school, but it proved to be more than worth it."
Admission Requirements:
Talk to your high school counselor to see if you are eligible to participate in dual credit.

Apply online at applytexas.org.

Submit a high school transcript and any required immunization records to the NCTC dual credit coordinator (your high school counselor may be able to assist with this).

Complete a dual credit registration form with course and section information. The form must be signed by the student, parent, and high school counselor.  The high school counselor must approve all courses.

Pay for courses after registration.
In Partnerships with ISDs:
NCTC partners with School Districts in Cooke, Denton, Montague, and Young counties to provide both academic and CTE dual credit.  NCTC offers a 42-semester credit hour core curriculum that is transferrable to any public university in Texas.
NCTC provides a variety of CTE programs to meet the needs of individual districts. NCTC also offers dual credit opportunities for interested home school students.
CTE programs offered as dual credit through NCTC*:
Agriculture

Business Management

Business Office Technology

Cosmetology

Criminal Justice

Emergency Medical Technician (EMT)

Fire Science

Engineering Technology (drafting)

Heating, Ventilation, & Air Conditioning (HVAC)

Machining

Petroleum Technology

Welding
*Programs vary by school and campus location.  Please talk with your counselor about options for your school.
Tuition:
NCTC offers a reduced tuition rate for dual credit students. Dual credit scholarships are available through the NCTC Foundation.  NCTC also offers free and reduced grant options to students who qualify and participate in their school's free and reduced lunch program.
Books & Other Fees:
Most courses require you to purchase a book. Some programs also have additional fees that are not covered under scholarships or grants.
Contact Information:
For more information on CTE Dual Credit at North Central Texas College, please contact:
Danelle Wolf
Dual Credit Coordinator/CTE Specialist
dwolf@nctc.edu
940-668-4223