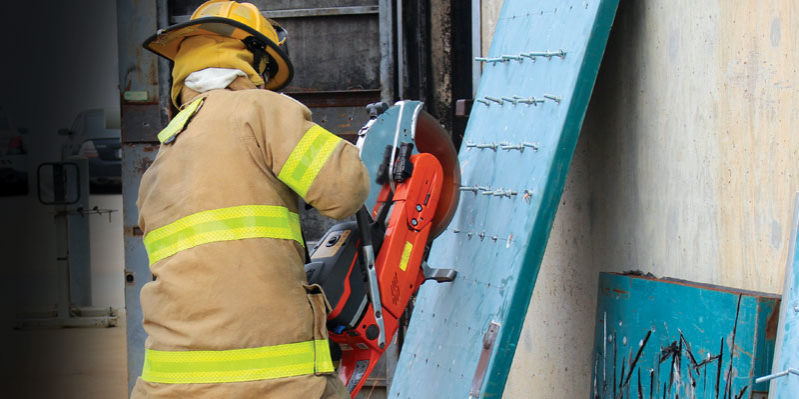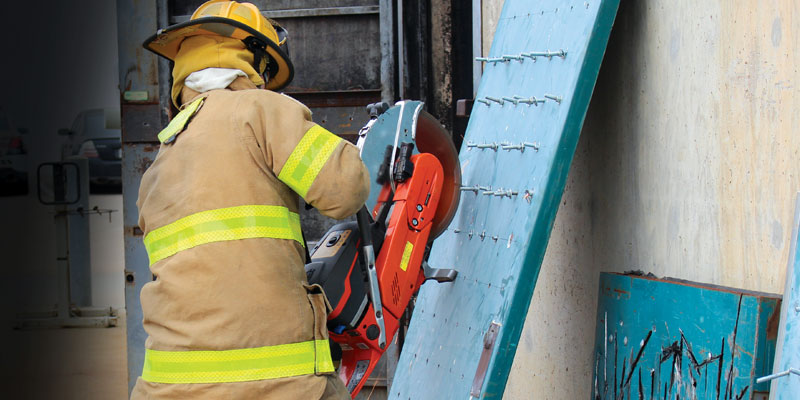 To the untrained eye, a day of skills training at NCTC's Basic Fire Academy may look like a bunch of kids hanging from ropes, crawling on cars and having fun with fire hoses, but instructors warn that there's a much more serious agenda at play— and it's not for the faint of heart. Whether students enrolled in the Fire Science program aim for the one-year Basic Firefighter Certificate or the two-year Associate of Applied Science (AAS) degree, they can count on a rigorous, highly-structured, militaristic program that demands intense physicality and discipline from its students.
"It's extremely physical," says Strider Floyd, Emergency Services division chair. "You have training sections like ladders, firehose safety, vehicle extrication, rappelling and live fires, and there are multiple skills to master within each of those areas of instruction."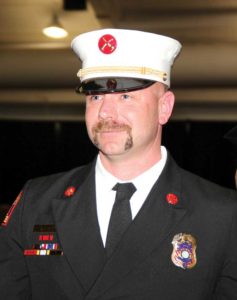 Floyd says 75 percent of the instruction is hands-on at the fire academy — based at the college's Corinth campus but conducting skills training off-site at local fire stations in communities like Lake Cities, Flower Mound and Lewisville — as students learn first-responder protocols and master the intricacies of handling and deploying the equipment safely. Chainsaw work, for example, can be very dangerous if you don't know what you're doing, Floyd explains, and deploying a firehose goes far beyond simply unraveling it and turning on a spicket.
"People often underestimate the difficulty of that," he says. "But with water coming out at 125 PSIs — that's more than 150 gallons a minute — it can knock you off your feet and you can easily lose control. And then we've got a whole new set of problems." 
Enrollment in NCTC's Fire Academy requires attending an Info Session in addition to a physical, drug screening and criminal background check, and candidates also take a Health Education Systems Incorporated (HESI) exam, with only the top 25 scores accepted into the program.
Basic Fire Academy training at NCTC is offered in day and night settings, and beyond the costs of tuition and textbooks, it comes with a few additional financial considerations. There's an $850 charge for bunker gear rental, for instance, $500 for a burn tower fee and $175 for fire facilities usage. 
Floyd says firefighters-in-training who pass the basic certification exam with the Texas Commission on Fire Protection — the Basic Structure Fire Suppression Certificate — "go into limbo for awhile" as they complete their EMT training. Once testing requirements for the EMT certification is complete, fire science students receive both their fire and medical certifications simultaneously and are ready to begin the process of seeking employment — a potentially tedious endeavor involving extensive background checks and polygraph tests.
"The hiring process in this field takes from 3 to 6 months, and municipalities are very strict about their background checks," Floyd says, adding that this is often the biggest hurdle to having a career as a firefighter.
John Bryant, lead instructor for the department's dual credit program at Lake Dallas Fire Academy, concurs.
"There's a high demand for firefighters, but the criteria are so stringent when it comes to the background checks, it often prevents people who have the training from getting hired," Bryant explains.
At issue are "character questions" pertaining to alcohol and drug use, and Floyd notes that NCTC's dual credit Fire Science programs may be an important way to address this by getting teens involved early and teaching them that "stupid mistakes" made in youth have a more lasting impact for those interested in fields like law enforcement and fire service. 
For more information about the Fire Science programs, visit www.nctc.edu or contact the Emergency Services department at (940) 498-6254.
---
To The Rescue
A 2018 graduate of Lake Dallas High School in Corinth, firefighter Eric Robinson is a success story of NCTC's inaugural dual credit fire academy at his alma mater. He landed his job as a firefighter straight out of high school — becoming one of 11 new hires in Lake Cities, an expanding North Texas community which just opened up a new fire station. 
Firefighting wasn't always the dream, Robinson admits. Initially, he'd considered going to culinary school, but after he saw a video on firefighting, he "was intrigued" and signed up for the LDHS fire academy program. While learning the ropes of his challenging new job, the 19-year-old is far from resting on his laurels or taking a break from studies. He enrolled in an area paramedic school in September and is due to complete his program this May. After that, he hopes to pursue additional certifications, training in areas like Wildlife Rescue and Swift Water Rescue. 
"The goal is to be involved with disaster relief and be deployed to areas around the country when disasters happen," he says.