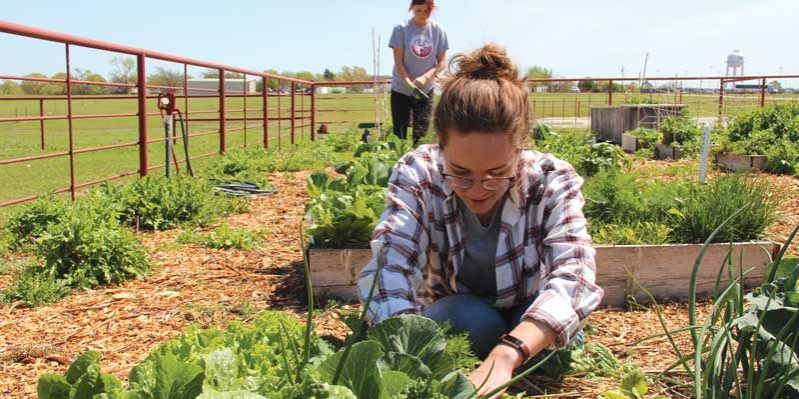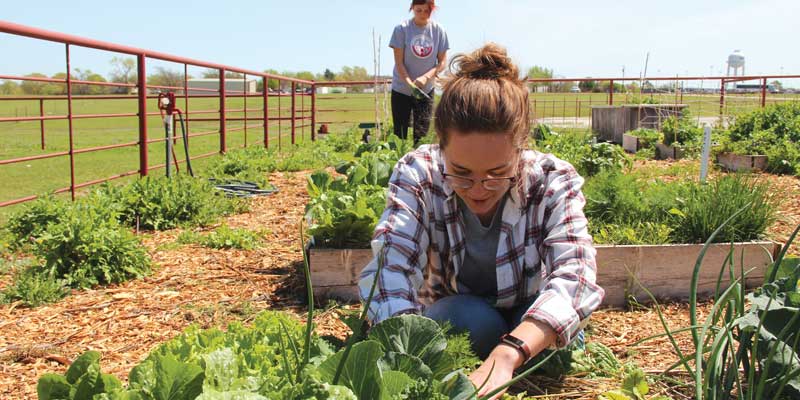 As the science and art of growing garden plants for the economic, aesthetic, and nutritional well-being of society, horticulture has its roots in the simple joy of having a green thumb, but it goes much deeper. 
At NCTC, the sustainable horticulture program approaches the life-celebrating field with an emphasis on permaculture, a philosophy of working with nature rather than against it. Horticulture instructor Ashley Hartman says the college's program was a pioneer in teaching about sustainable horticulture in Texas, and remains one of the few of its type today.  
Infusing permaculture theories and practices into both its natural gardening and farming techniques and regenerative agricultural applications, the curriculum digs into the technical aspects of organic gardening and the latest earth-friendly techniques of plant propagation, soil preparation and pest management. 
Some 45 students enrolled at the Gainesville campus are working on various certificates and degrees, participating in activities at the horticulture "farmette," a half-acre spread where life blooms amid two outdoor classrooms, a greenhouse, vegetable gardens, experimental food plots and multiple ornamental gardens. Other features like a mini-vineyard and an orchard called a fruit guild offer additional opportunities for hands-in-the-dirt experiences exploring sustainable horticulture methods and focusing on the nuances of composting, mulching and biodiversity.
Ornamental gardens on the farmette showcase a wide variety of plants that students use for plant identification and culture. They focus on everything from edibles in the landscape to Texas native plants, plus hardy, introduced species adaptable to North Texas' climate. In the mini-vineyard, five grape varieties are cultivated — all specifically chosen for being disease resistant and suitable to the climate and native soils of the region. They range from table grapes to wine grapes and juicing grapes, and several were bred by world-renowned viticulturist, T.V. Munson, who resided in neighboring Grayson County.  
Two of the many popular permaculture concepts students get down and dirty with at the farmette involve the fruit guild and something called "hügelkultur plantings." The former, Hartman says, involves surrounding fruit trees by a combination of plants that live in symbiosis with the fruits and are chosen for their companionability.  
"The beauty of a fruit guild is that it's self-sustaining and is all about biodiversity," she explains. "Unlike a typical fruit orchard with roots blanketed in grassy monoculture, our orchard has a network of dynamic plants and microorganisms that serve to fortify and protect the fruit trees, resulting in a mini-ecosystem not dependent on typical orchard chemicals."
Similarly, NCTC's hügelkultur planting displays the benefits of burying wood in a garden. "The wood forms a special relationship with the surrounding plants by growing valuable microorganisms,
creating aeration, and releasing water when the soils become too dry," Hartman says.
New developments are a constant here, and the NCTC Horticulture Club is in the process of installing a rain garden, a food forest, a strategic windbreak, and additional rain water collection — all permaculture-centered techniques.
Besides small class limits and hands-on education techniques, Hartman says the unique program offers students "an invaluable opportunity to learn from instructors who currently work in the industry full-time." The roster includes professionals from fields like landscape architecture, arboriculture and floristry as well as greenhouse management, public garden management and sustainable agriculture.
---
Get Your Green On
Degree plans in the Horticulture program are intentionally stair-stepped, and horticulture instructor Ashley Hartman outlines the "typical progression" as starting with a Landscape Design Occupational Skills Award, followed by a Sustainable Horticulture Certificate and a Horticulture Management Certificate. Each of these is designed for students to complete as a 12-month program, although students may work at their own pace and multiple degree plans can be earned simultaneously. Lastly, is the program's two-year associate degree plan, the Associate of Applied Science in Horticulture Management.