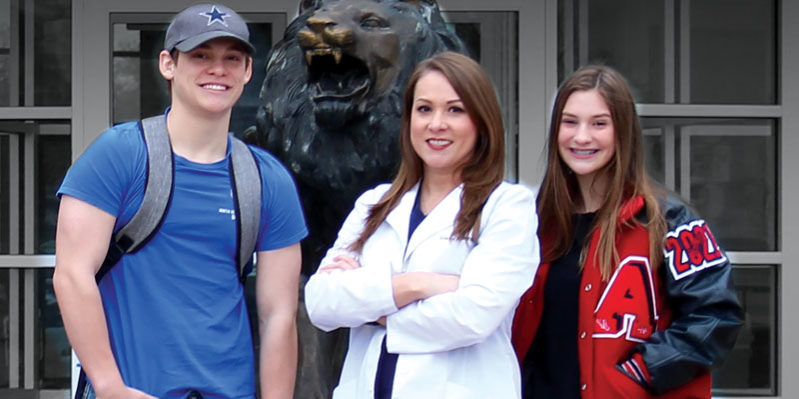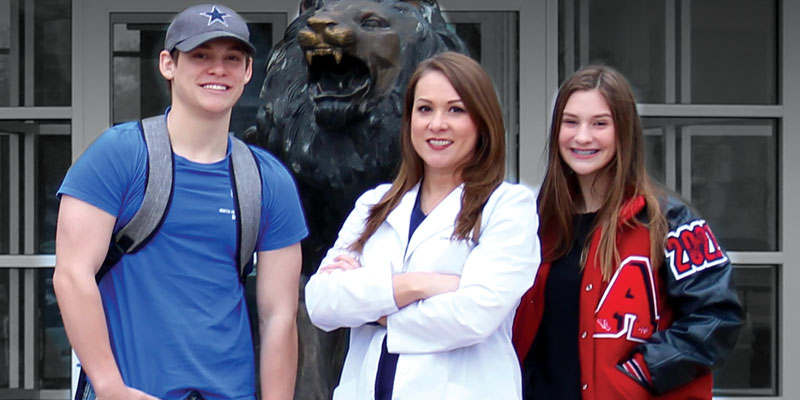 Gwen Lillard

alumna, medical professional, proud mom
In 2012, Gwen Lillard of Aubrey, Texas, was just over 30 and a self-described stay-at-home mom who hadn't been to school since she was 17 and a half.  Change arrived in her life with "a flyer in the mail," and she began thinking about taking a few classes at NCTC. Her motivation was simple. "The kids had gotten expensive," she notes. "I was looking for the fastest way to get some training and become employable."
In close to a year, she'd completed NCTC's 12-month Surgical Technology Certificate, and was soon employed at the Day Surgery Center at DRMC. Next came her Associate of Applied Science in the same field in 2016, and she eventually transferred to Medical City Denton, then "got in on the ground floor" with the Wise Regional Surgical Hospital in Argyle. Meanwhile, she continued her education and medical training, entering a 12-month Certified Surgical First Assist (CSFA) program with Meridian Institute of Surgical Assisting — based in Nashville and one of just six schools with accredited programs in this specialty. 
These days, Lillard maintains a work schedule likely to make anyone else's head spin. She still works weekdays at Wise Regional, "moonlights" at Medical City Denton's trauma center — "it keeps my skills up" — and, with an eye on entrepreneurship, has started her own staffing company, SCLS Staffing.  
NCTC is where it all started for her just six short years ago, Lillard says, and the college is serving as an important educational stepping stone for two of her three children as well. Her son, Nathanael, 18 and a half, graduated from Aubrey High School at 17, having taken "every dual credit course he could." He'll earn his Associate of Applied Science in Radiology from NCTC this spring. Meanwhile,
Lillard's 15-year-old daughter, Sadie, is a sophomore who's also embracing the idea of higher education via dual credit courses in high school.
"I came from a home that was not education-driven," Lillard says. "I guess my kids have watched how hard my husband and I have had to work to educate ourselves as adults. So, they're totally motivated to take classes, and whenever an opportunity is presented, they take it."
Dandrea Collins


student, criminal justice
Well-acquainted with NCTC and its varied programs, Dandrea Collins, 30, says she attended classes here after high school "off and on" from 2008-2012. After the birth of her son — now 13 — she "took a break." She was always interested in criminal justice and gravitated to law enforcement, working for a number of years as a detention officer with the Denton County Sheriff's Department, followed by her current job as a customer service lead with the Department of Public Safety in Flower Mound. Finally, in the fall, she knew it was time to get serious about her education and she enrolled again at NCTC, this time, "full-time and going full force." She has her eye on the prize: an Associate of Applied Science in Criminal Justice and a projected graduation date of May 2020.
Franklin Haskins


alumnus & financial aid advisor
A familiar face on NCTC's Gainesville campus, Franklin Haskins has worked in the financial aid office for 12 years, attending a class or two in the  evenings and being a single parent to his now 16-year-old son. "I've been a career student forever and have worked in higher education since I was 19," he says. Employed by Texas Woman's University for five years, first in the Transcript office and then the Registrar's, he quit his job and started attending NCTC in 2004, then got a work-study position with the college's Admissions office. That lasted three years, untill he transitioned over to Financial Aid. Haskins finally earned his Associate of Arts in General Studies in 2016, and he'll have a bachelor's degree to frame and hang on his wall in May, when he completes his degree plan with Texas Woman's University.
Stormy Krayenhagen
student, paramedic program

 
A 2010 graduate of Lake Dallas High School, Stormy Krayenhagen learned about NCTC by way of dual credit classes at her campus, and although she wasn't able to participate in those offerings, it still put NCTC on the map for her. A personal tragedy inspired Krayenhagen's interest in Emergency Medical Services, dating back to 2006 when she was crossing the street and was hit and run over by a car. She was transported by CareFlite to Children's Medical Center Dallas for treatment. Years later, after earning her EMT certification at NCTC, she began working for Children's Medical Center Dallas in 2014. 
"I've really enjoyed working with pediatrics," Krayenhagen says. "Children are incredibly resilient and hopeful."  Today, Krayenhagen is 27, married to a sergeant in the United States Air Force, and hopes to continue to work with pediatrics — possibly even at her favorite hospital, "but on their ambulance instead." She is pursuing an Associate of Applied Science degree in Paramedicine and says it is her way of "paying it forward." 
Tatyana Mirolyubenko
student, computer

 

information systems
After High School, Tatyana Mirolyubenko trained as a dental assistant and worked several years in the field before realizing that her heart was not in it. Seeking an education that would provide practical training, she enrolled in NCTC's Computer Information Systems and Technology (CITE) program and plans to graduate with her Associate of Applied Science degree this May. She applied and qualified as a TechHire participant, which earned her placement in a paid cooperative internship with Team of Defenders, a start-up company in Denton. Mirolyubenko says she has been thrilled with the support of the TechHire team and with her IT coursework, which she describes as "very challenging and densely-packed" and "with many compressed and online classes."  Her internship really helped her see the value of that. "Now that I'm in an office environment, building websites and working with hardware and e-commerce, I am definitely benefiting from what I was taught."